Timothy Foreman's ride report for the 2006 Minnesota 1000 rally.
* Lots of rain at the start.
The start of the rally was a pre-rally meeting and dinner (The Liar's Banquet) Friday night at Leo's South - a motorcycle dealer in Lakeville, MN, about 20 miles South of Minneapolis.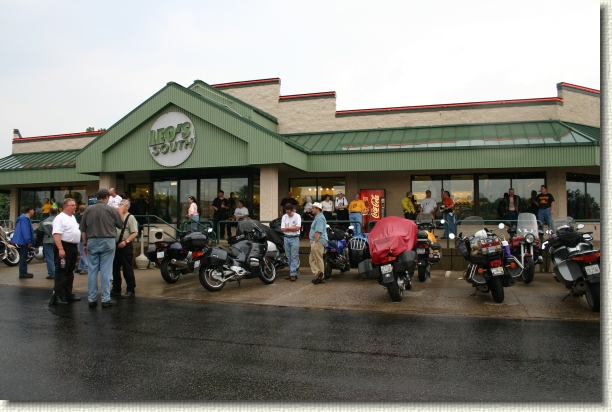 We were handed a route sheet with about 30 bonus locations on it, but were told that this was not all the locations. This is SOP for the Minnesota 1000. They hand out some bonuses on Friday, then you get more on Saturday in the hopes that they totally undo any planning that you might have done that evening.
It was cloudy on Friday, but it never really rained much at Leo's. But it was raining in Minneapolis, raining hard. We had almost three inches of rain in the rain gauge at my house, and the neighbor's large tree came down.
There was a bonus that you could go collect at a coffee shop named Betty's Bikes and Buns in Minneapolis. We were informed that we could go collect it that evening, so after the riders meeting a bunch of us headed to Betty's.
I followed another biker who didn't seem to really know where he was going, so we went through several intersections that were at least 1-1/2 ft deep with water. The bow wave as I forded the intersections was very impressive.
The Yamaha didn't like that very much and I was afraid that it wouldn't start again when it was time to ride home from Betty's. Then I was afraid it wouldn't start the next morning. But it did.
I spent a little while marking down the bonuses on my maps and it looked like a swing to the Southeast corner of Minnesota, then running across the bottom of the state and then back North again would be a nice ride.
* The start of the ride.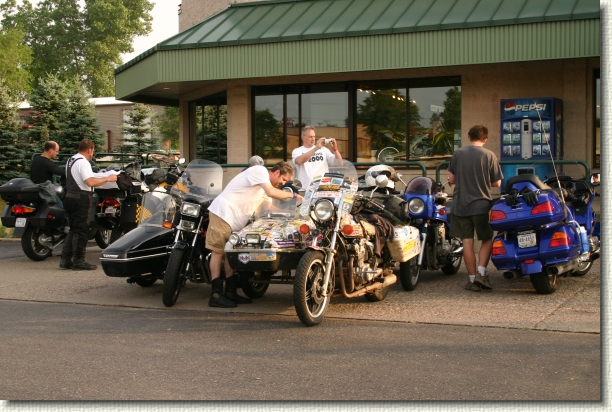 Saturday was cloudy and windy. But not raining, so that was okay. We met again at Leo's and got a second set of route sheets. There were more bonuses along the route I had chosen Friday night, so I decided to stick with my plan.
* Rode with Kevin and Jordan Wynn.
Kevin Wynn and his 11 year old son Jordan were in his Ural hack. They wanted to take it easy (as did I) and were also planning on going Southeast, so we hooked up and rode together.
Stephanie - my 13 year old daughter - was planning on coming along, but she got invited to go to a birthday sleepover party and opted to do that instead. She wrote me a nice note about how she really wanted to go on the ride, but that they were going to have sushi at the party.
It's hard to compete with sushi.
* The Ural had speed issues.
The rain had soaked the air filter and the Ural didn't want to go very fast. Considering that it has maybe 45 HP on a good day, this was an issue. He could make about 60 MPH, tops, with no head-wind.
* Lots of steps at Elba.
One of the bonuses was to climb a fire tower in Elba, MN. That didn't sound so bad and it was worth a lot of points.
Driving into Elba, you see the tower on a high bluff. It doesn't look so bad.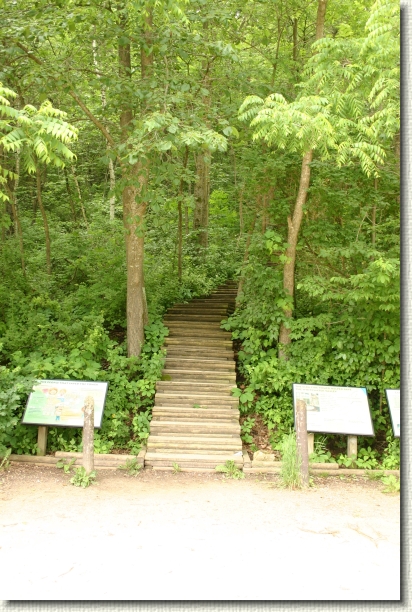 Then you turn onto Cty road 26 and there is a parking lot right there at the base of the bluff. A flight of stairs leads up the side of the bluff and into the woods. Uh oh.
The sign says that it's equivalent to climbing your basement stairs - 50 times. There were 620 stairs up the bluff before you even got to the fire tower, then there were another 184 steep steps up into the tower. The view was fabulous from the tower. Sadly my camera settings were way off and the pictures didn't turn out.
This was an evil bonus and burned up almost an hour of time. Nice job Bart!
* Skirted the rain.
After we recovered from Elba, we headed Southwest to get some gas and lunch. We ended up eating in Chatfield, a pleasant looking little town. Then we headed over to Ural dealership in Spring Valley.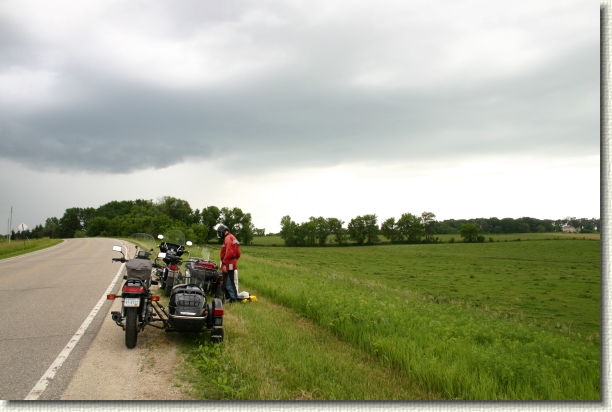 On the way to Spring Valley, we started heading towards some dark rain clouds, so we pulled over so Jordan could put on a rain suit.
Of course this meant that we completely skirted the rain and stayed dry.
* Hanging out at Dave's Ural dealership.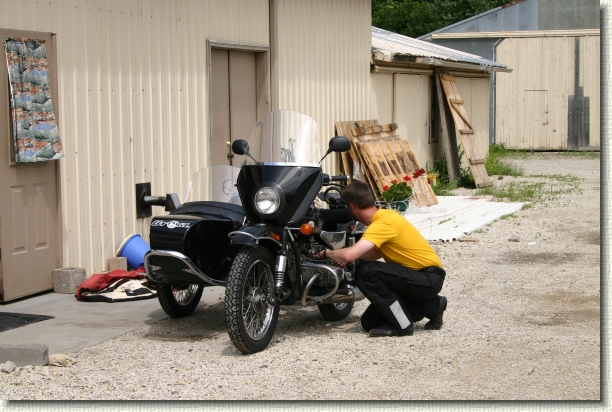 Dave is a really nice guy. We hung out for a long time, chatting and futzing around. Kevin got a new air filter (actually it was a filter for a lawn tractor that exactly fits the Ural) and installed it.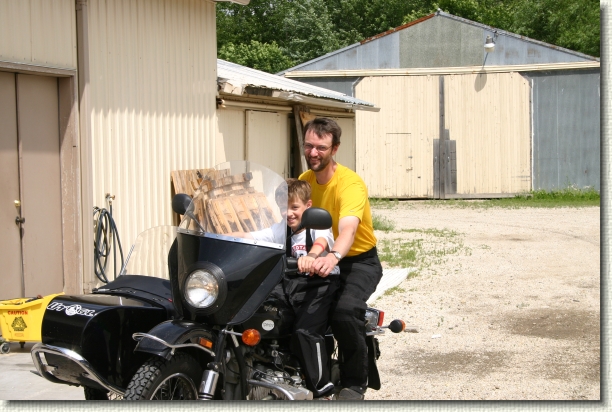 Kevin also let Jordan drive the Ural around the yard. Jordan was grinning so much I thought the top of his head might come off!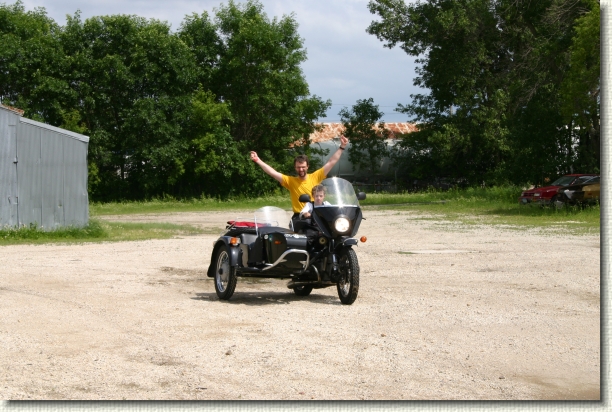 We were really taking a lot of time at Dave's just messing around - so much time that I was starting to get antsy. We were not riding a hard rally-paced ride at all, but it was time to go.
Finally, at about 4:30, we left. We needed to get to the Spam Museum in Austin before it closed at 5:00. It was going to be tight.
* Spam museum.
We hit the exit ramp from I-90 for the Spam Museum at about 4:57. I was sure the museum would be closed by the time we got there. It's a kind of long winding route to the museum and each stop sign and turn was costing us time.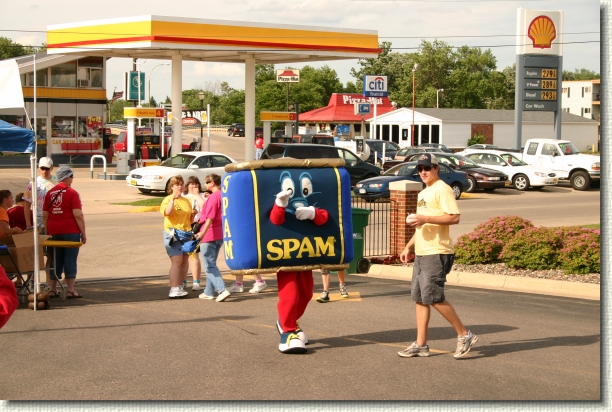 Imagine my surprise when we turned the last corner and the street was blocked off for the Spam Jam Festival! The place was packed. We had no problem (other than all the crowds) getting into the museum gift shop and picking up the bonus. Bonus!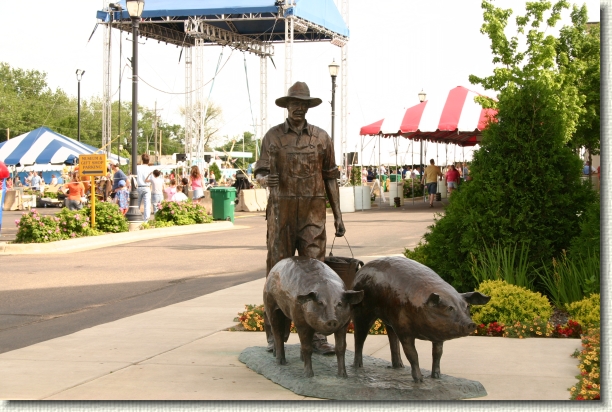 * Rain.
After Austin we headed over to Blue Earth to take a photo of the Jolly Green Giant. As we headed West I kept glancing at the dark clouds ahead and to the North and South. There seemed to be a break in the rain due West, but then the freeway would dip South some more and head us into the dark clouds.
Eventually we pulled off on an exit ramp so Kevin and Jordan could suit up again. As Jordan was finishing getting suited up, the rain rolled over us.
We started down the road again in the rain. It poured pretty hard for about 5 miles, then stopped as we came out the other side of the storm. We got pretty wet, but not majorly soaked.
* Bike no workie.
We continued down the road towards Blue Earth. About two or three miles from Blue Earth, my bike suddenly lost power and started running really, really bad. I down shifted and it was all I could do to maintain 40 MPH. So I drove along the shoulder at 40 MPH and hoped that Kevin would notice that I had disappeared.
Finally the Blue Earth exit appeared and there was Kevin, sitting on the shoulder and waiting.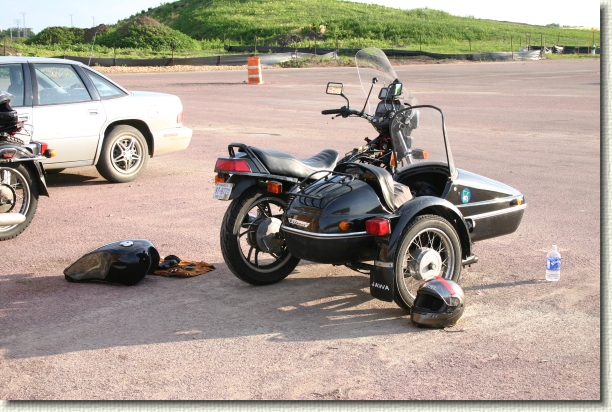 I putted off the exit an into the nearest gas station. There we tore into the bike to see what was up.
It appeared that the number 4 plug was sparking really weak. Which is weird as the number 1 and 4 plugs use the same coil.
So we finally decided that the plug was bad. So... Where do you buy a motorcycle spark plug at 6:00pm in Blue Earth, MN? That's a good question. Kevin started making some phone calls, everybody was closed.
Then I thought about WalMart. I hate WalMart, but there is one in Blue Earth. So Kevin headed down to see what he could find while Jordan and I hung out at the gas station.
* Bike still no workie.
Kevin came back with an AutoLite plug that looked about the same size. There was no cross reference chart that listed motorcycles (no surprise), so he made his best guess.
The plug fit in the hole, so we screwed it in and tried to fire it up but it still ran like crap.
At this point I'm guessing the coil is bad, as the spark seems really weak, so I figure it's time to toss in the towel.
Lee Bruns had trailered his hack in from South Dakota and offered up the trailer in case anyone had a breakdown. Bob Waitz had passed around his phone number and volunteered to come pick up anyone who needed it.
So I called Bob. He said he had to head home, drive up to Victor's (where the trailer was) and then down to Blue Earth. Probably a total of about 180 miles. Oh, and the price for the pickup? A tank of gas. (Cheaper than a tow or renting a truck.)
So Kevin, Jordan and I went to the Country Kitchen next door and had some dinner. I can't recommend the Country Kitchen on 169 in Blue Earth. My omelette was not that tasty.
* Waiting for Bob.
After dinner Kevin and Jordan hung around for a while while I waited until I convinced them they should head for home. So about 8:00 or so they took off.
I bought a newspaper and went back into the Country Kitchen to read it. Man it's boring just sitting around.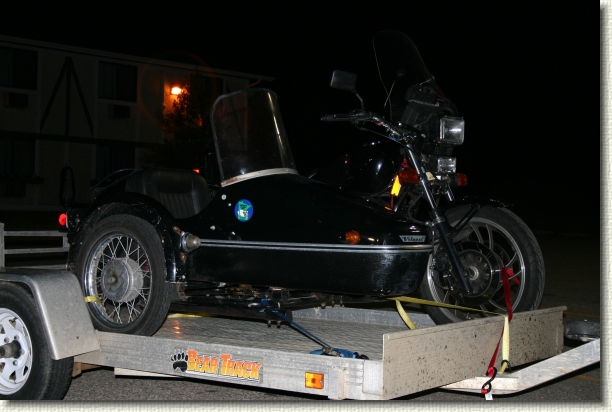 The Country Kitchen closed at 11:00, so I stood around in the parking lot for a few minutes. Finally about 11:15 Bob showed up with the trailer and we loaded up the hack.
We went next door and gassed up the truck (for $61!) and headed East on I-90.
* Driving with Bob.
Bob drove straight through and we just chatted about this and that. We finally got to my place around 2:00am. We swung through the SuperAmerica about 4 blocks from my house to top off the truck (for $24) and get a receipt to start my rest bonus.
Then we unloaded the hack and pushed it into the garage. I went in the house and went to bed.
* Changing bikes.
I got up at 6:30 in the morning (because you had to be back to Leo's by 8:00 or get time-barred) and went out to try and start the hack. Maybe the coil was just wet and had dried off.
Nope. Still ran like crap. So I hopped on the K bike, stopped at SuperAmerica to fill up and get the second receipt for my rest bonus, and went down to Leo's.
There is a 10,000 point hit if you change bikes in the middle of the rally, but I figured that would be better than a DNF - besides, I wanted to show up for the end of the rally.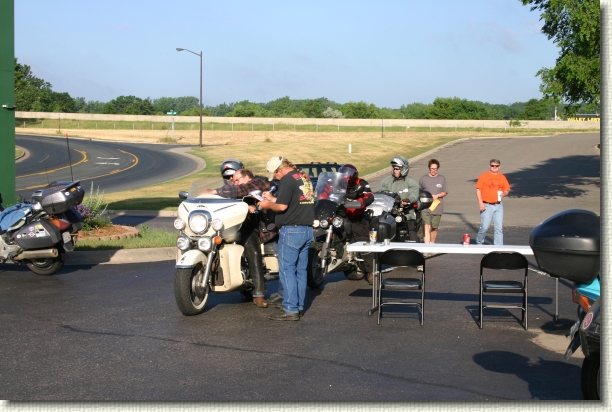 As I pulled into the lot, Critter (who was checking bikes in) asked "Didn't you leave on a sidecar?" He then pointed out Tim Conway's Triumph Daytona and told me that Tim had started on a GS and returned on the Daytona, thus losing 10,000 points and putting himself into the sport class.
Hmmm. Then he told me that I would end up in the sport class also and that there were only three of us in that class. I just started laughing.
After I parked and took off my gear, Tim Conway came running up, laughing, and yelling at me. He was concerned that I would beat him. Hilarious.
* Scoring - lost bonii.
The stupid gas receipts from the SuperAmerica just blocks from my house did not have the city printed on them! It's my fault for not paying attention, but still! I lost my fuel log and rest bonus points!
* I took third! Tim Conway took second!
My final score ended up being -8047. Tim Conway's was -7916.
Tim Conway and I were sitting together during the announcing of the winners and we pretty much knew what the results would be, but I was laughing all the time.
It turns out that the third person in the Sport Class ended up crashing in North Dakota (he's alright, but the bike was not drivable) and DNFed for a score of 0. So he took First Place. (I'm not convinced that someone who doesn't finish actually places, but I'm not the rally master.) Tim Conway ended up taking Second Place and I got a trophy for Third Place!
* Wrap up.
Sadly, I would have taken Second Place if I had paid more attention to the receipts at the SuperAmerican. Ah well. That's why I don't win at these rallys.
I'm guessing at this point that I will run the hack again next year, and make more of an effort to get Stephanie to come along. I think she would have liked everything except the standing around waiting for Bob. Even I didn't enjoy that.
All in all, it was an enjoyable Minnesota 1000.
Thanks Bart!
You can see a gallery of all my 2006 Minnesota 1000 photos.
---
Copyright 2006 Timothy W. Foreman